Coarse grinding
Product size some dozens mm to some hundreds µm
Impact Type Screen Mill
Hammer Mill H, Hammer Breaker HB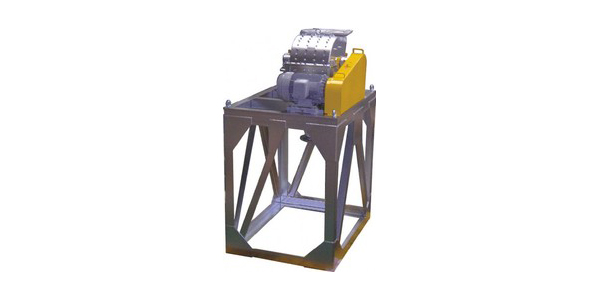 When used as a grinding machine to powderize small lumps of materials, the Hammer Mill has a high capacity and only needs minimal auxiliary facilities, making it a very efficient machine.
Has a durable and simple structure.
Parts where wearing could take place can be easily replaced and the running cost is low.
Product sizes can be easily adjusted by exchanging the screens/grates through the side cover.
Low Speed Shearing Screen Type Grinder
Rotoplex Ro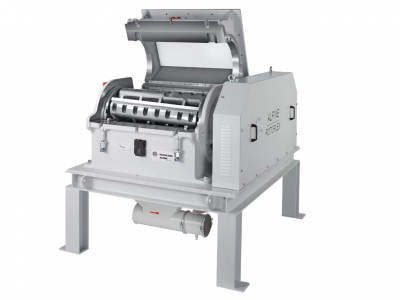 Durable casing structure made from cast iron
Designed for easy cleaning and easy exchange of screens/cutters.
Able to grind resin molded inferior goods of various shapes and sizes.
Able to grind freshly molded high temperature scraps.
Cooling air and water are not needed due to its unique structure that is compatible to the high speed rotor.
Low Speed Shearing Screen Type Grinder
Compact Line CL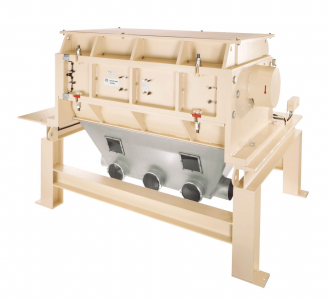 Rotors in patented Alpine cross-scissor-cut technology.
Robust framework construction in "triple frame" technology.
Electro-hydraulic dual opening system for mill top section and screen support for fast and comfortable access to rotor and grinding chamber.
Gap elimination/minimization for optimal cleaning.
Machine sizes from 30 kW to 500 kW.
Low Speed Shearing Screen Type Shredder
Nibbler NBS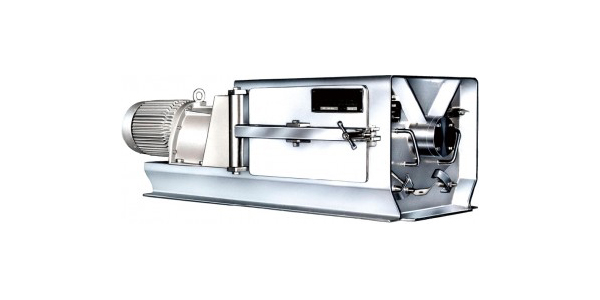 The Raw Material can be easily fed into the machine due to its wide inlet.
The inlet and outlet are concentric on a plane, allowing for easy positioning.
Product sizes can be easily adjusted by switching screens.
Due to the unique design of the screen, the residence time is short and generation of fines is minimized.
Energy consumption is low and the noise generated during operation is relatively quiet.
Disintegrator
Disintegrator RD, RH, RA/RP, RI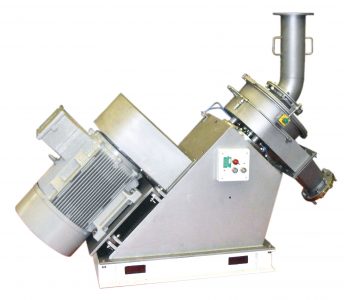 The Hosokawa Micron Angle Disintegrator offers the intense grinding and processing of wet and dry products and can automatically separate and reject non friable material through the optional secondary discharge.
Materials enter at the top of the rotor and are subjected to repeated impact and attritional forces from the high speed rotating hammers, centrifugal force carrying the material through the 360° perforated screen. Easily changed screens ensure uniform reduction and continuous flow which in turn maintains low temperature rise and cuts vibration which gives the benefit of a lower kW requirement. Manufactured to a hygienic standard. All process and non process components manufactured from stainless steel.
RA Design – can also be fitted with a secondary outlet for separation of reject material.
Chemical, Sanitary and over-pressure designs are available.
The Hosokawa Micron Angle Disintegrator is specifically designed for:
Dry pulverising
Wet grinding
Dispersing/Mixing
Fine pulping and pureeing – tomato puree
Coarse Grinder for Rubber Bale
Rubber Chopper PB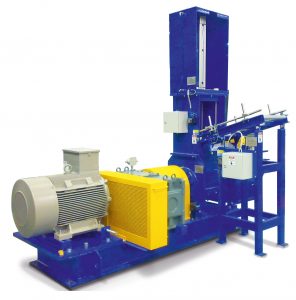 For size reduction of bales of natural and synthetic rubbers to facilitate blending with other ingredients or dissolving.
The Hosokawa Micron Rubber Chopper's extra heavy-duty design can shred bales of rubber and plastic in seconds at a maximum torque of 3Kw/rpm. The machine operates at low speeds (typ 40 rpm) and generates enormous torque to deliver benefits including:
Low maintenance
Minimised noise, minimal wear
Low temperature rise
Energy efficiency
Controlled end particle size
Various drive assemblies and chopper configurations are available to meet production requirements.
Designed for the positive and automated feeding of problematic grades of synthetic rubber. Providing Chopper performance increase, higher machine utilisation, no operator intervention.
Heavy duty manufacture
Oversize pneumatic cylinder operation for maximum bale transit
Low maintenance
No requirement for chopper unit main drive motor upgrade or machine speed increase
Standard fit to 15 inch Chopper unit without modification
ATEX certified design available for European installations
Granulators and Shredders
Polyplex PPC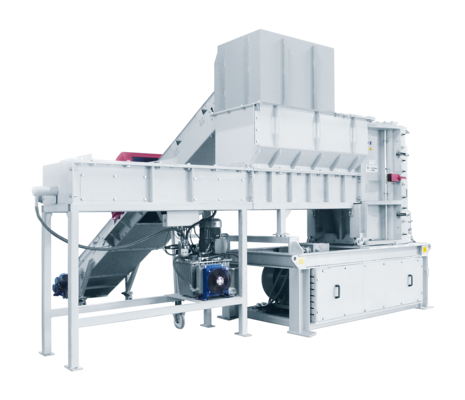 Principle of operation
The material is charged to the shredder section by means of the mechanical feed unit. The pre-comminuted material falls as the result of gravity into the granulator section and is comminuted there to granulator fineness. Whereas the shredder rotor permits self-dosing, the granulator rotor guarantees product fineness values to approx. 5 mm. The feed material is supplied by means of a pusher installed in the channel. This allows feed material lengths of up to 6 metres. As a result of the combination of shredder and granulator, the comparatively small machine can process, for example, machine purgings of up to several hundred kilos – if necessary together with profiles, pipes and trims.
Technical highlights
Material feed:
Self-dosing material feed
Feed unit individually adaptable to the respective problem specification
Feed material can be fed continually or in batches
Comminution:
Granulator fineness values in one step
Handling:
Optimum access to cutting chamber, rotor and granulator knives
Short cleaning times
Easy operation and maintenance
Considerably reduced downtime
Cost efficiency – in comparison with 2-step solutions:
Significantly cheaper purchase price
Energy-efficient comminution thanks to only one drive being needed
Minimised space requirement
Minimum staff requirement for feeding the machine