Conical Mixer, Vrieco Nauta mixer series
Vrieco Nauta Mixers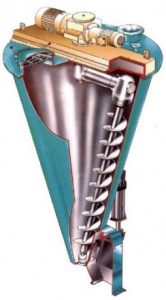 Swift mixing with minimal energy consumption.
Mixing deviation converges quickly with little variation.
Minimal damage to particles.
Low heat generation.
Easy to discharge material with little residue.
Large machines possible.
Easy to clean.
No seals within the material bed.
Simplifying processes.
Conical Mixer
Vrieco Nauta Mixers DBX Type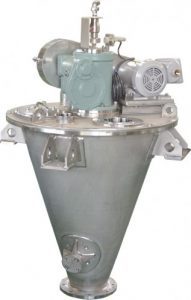 Cantilever mixing screw design throughout the model range increases cleanability.
Drive unit uses direct drive motors increasing safety and maintainability.
Improved transmission efficiency reduces the energy consumption.
Vacuum type DBX-RWV can be used for drying and reaction processes. (refer to dryer section)
Conical Mixer
Vrieco Nauta Mixers NX Type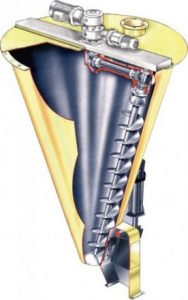 Standard model of the Vrieco Nauta Mixer.
For volumes below 300 liters, the mixing screw is cantilevered. For volumes above 600 liters, the standard bottom support is the pin joint.
NXW type has 2 mixing screws offering short mixing time.
NXR type has a faster mixing screw tip speed, offering kneading effect, for applications such as pasting.
Conical Mixer
Vrieco Nauta Mixers D2SX Type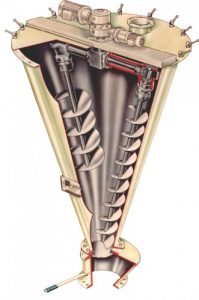 Equipped with a additional satellite mixing screw.
Mixing time is less than half of the single mixing screw type Vrieco Nauta Mixers, with approximately 30% increase in energy consumption.
Conical Mixer
Vrieco Nauta Mixers CX Type
The installed height of the mixer is lower than that of an equivalent volume NX model.
The mixing time is half of an equivalent volume NX model.
The load on the mixing screw is distributed to the 2 screws increasing stability in operation.
Conical Mixer
Vrieco Nauta Mixers DBY, LV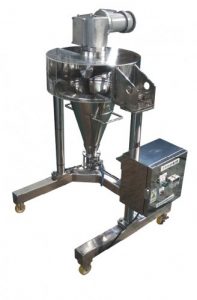 Laboratory model mixers.
DBY type uses the same Vrieco Nauta Mixer mixing principle.
Small and portable.
Screw speed can be adjusted (for LV model) freely between 100 – 200 rpm.
Maintenance free bearings require no lubrication.
Simple design making.
High Speed High Shear Mixer
Cyclomix CLX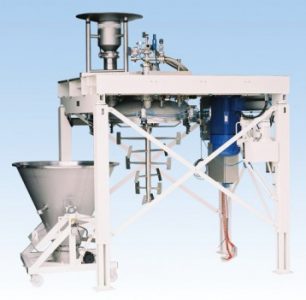 Unique mixing action.

Fast mixing time with high level of homogeneity and material dispersion.

Jacket with highly heat transfer efficiency.
Easy discharge of material with almost no holdup of material.
Conical High Speed Mixer
Vitomix VX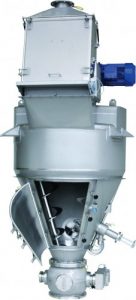 Short mixing time.

Achieves swift and homogeneous mixing with efficient mixing principle.

Wide range of applications.

Combines a gentle low shear mixer and a mid shear mixer in one machine.

Easy discharge of material, no residue.
Easy to clean.
Compact design.
No seals in material bed.
Continuous Mixer
Turbulizer TX, TCX
Compact continuous mixer with high capacity. (11 ton/h on model T X-30)
Can break up agglomerates.
Adding  and dispersing liquids.
Jacket f or h eating and cooling.
Increases i n powder handling.
Continuous process f or labor savings.
Easy cleaning.