Fine grinding
Product size some hundreds µm to some dozen µm
Impact Type Fine Grinding Mill
Fine Impact Mill UPZ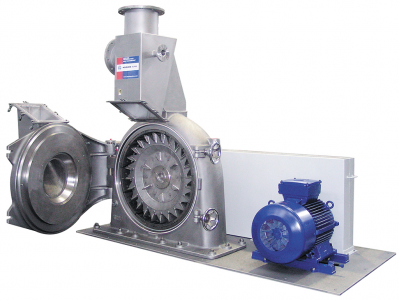 Wide range of flexible and interchangeable size reduction media to fulfill a host of different requirements for medium fine end product sizes.
Simple grinding structure for easy assembly and dis-assembly.
CIP/SIP compliant model available.
The 100UPZ-c, manufactured specifically for pharmaceutical applications, can be easily disassembled for cleaning and is GMP compliant.
Impact Type Fine Grinding Mill with Pin Discs
Contraplex CW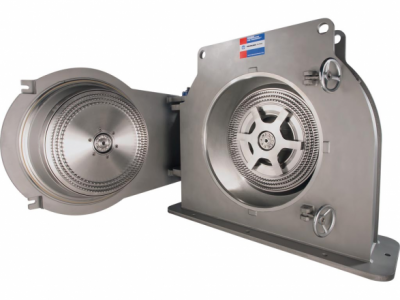 The wide grinding chamber structure allows generated heat to be discharged efficiently and prevents adhesion buildup.
The high relative speeds generated by the two pin discs allow fine grinding.
The strong impact generated by the pin discs allow an equally ground mixture made up by more than one substance.
Ideal for raw materials with Mohs hardness 3 and lower.
Impact Type Fine Grinding Mill with Pin Discs
Sugarplex for sugar grinding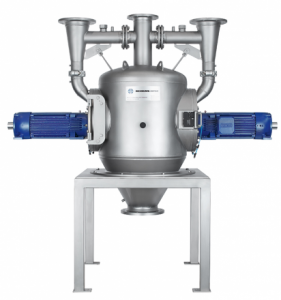 Versatile size-reduction system with exchangeable grinding elements such as:

Beater disc, pin discs, swing beaters and plate beaters, sieves and grinding tracks.
End-product fineness in the range 50 µm to approx. 5 mm in accordance with the grinding equipment installed.
Generously dimensioned mill door for easy cleaning and exchange of grinding elements.

The coarse sugar is fed via a rotary valve through the mill door directly into the centre of the grinding unit. The grinding unit consists of 2 pin discs and is completely integrated into the mill door. The door can be opened quickly and easily and can be swung wide open so that the user can inspect or clean the milling tools at any time with no problem. The Sugarplex 315 SX achieves throughputs of 3 t/h at a finenesse of 99% < 450 µm or 1.5 t/h at a finenesse of 99% < 150 µm.
Impact Screen Type Fine Grinding Mill
Victory Mill VP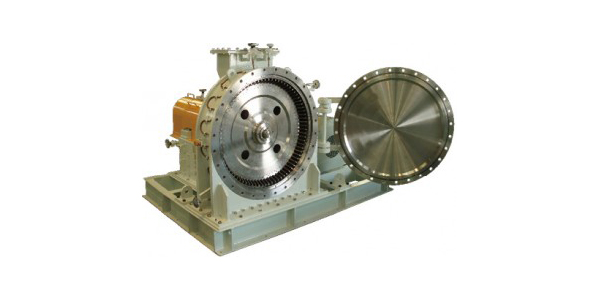 Due to its short residence time, generations of fines are minimized leading to a sharp and uniform particle distribution.
The area ratio of the liner and screen can be adjusted to best suit the material specifications.
It has a simple structure making maintenance very easy.
Ideal for grinding heat sensitive materials such as synthetic resin and foodstuffs.
Impact Type Screen Model Fine Grinding Mill
Pulverizer AP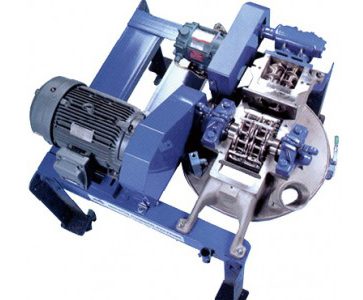 Continuous operation allows for high capacity milling of a wide range of materials.
Particle top size can be easily controlled by changing the retainer screen.
Designed for quick disassemble for cleaning and maintenance.
Durable construction for long service life.
AP-B, AP-1, and AP-2 models can be operated on its own by attaching air relief filters, allowing for easy operation.
Different screen options can produce materials down to 45 microns.
Screen Type Fine Impact Mill
Feather Mill FM, FM-P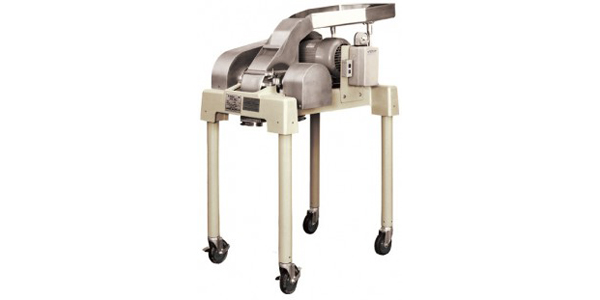 The particle size can be easily adjusted by changing the hammer rotation speed as well as the screen size.
The Feather Mill is a suitable grinder for a wide variety of materials including heat sensitive ones.
The pressure loss of the machine is very low, making it easy to incorporate the machine into any process line.
Impact Type Air Classifying Mill
ACM Pulverizer E-ACM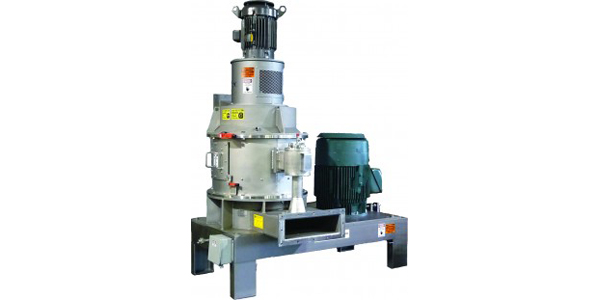 Enhanced model from the ACM for the effective grit reduction in the carbon black.
All raw material flows through the grinding chamber without short pass.
Recycle grinding of classified material.
The grinding unit is normally incorporated into the carbon black process line as an in-line unit.
Impact Type Air Classifying Mill
ACM Pulverizer ACM, ACM-A, ACM-2EC, ACM-H, ACM-HC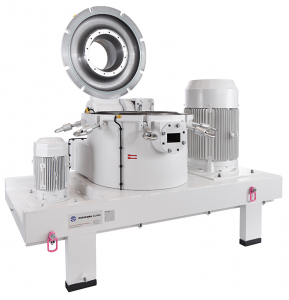 By changing the air volume and classifying rotor speed, the particle size can be easily adjusted. This allows the operator to change product sizes during operation as well.
Effective impact grinding for heat sensitive materials possible.
The ACM-A model can yield products with average particle sizes of 10-100μm, with the high speed (peripheral speed of 130m/s). The ACM-H model produces average product sizes of under 10 μm.
High Performance Cooling Type Mechanical Mill
Glacis GC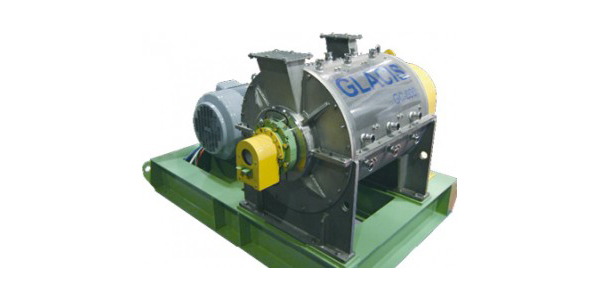 Ultra-fine grinding of heat-sensitive materials
Suitable for grinding heat-sensitive resins due to its high cooling efficiency. When grinding toner, the Glacis can produce products with the same average particle size (approximately 5μm) as products produced by jet mills.
Energy-saving.
Superior cooling efficiency.
Compact design of the unit and system.
Production scale test units.
Three-in-one Mill
UMP Universal Milling System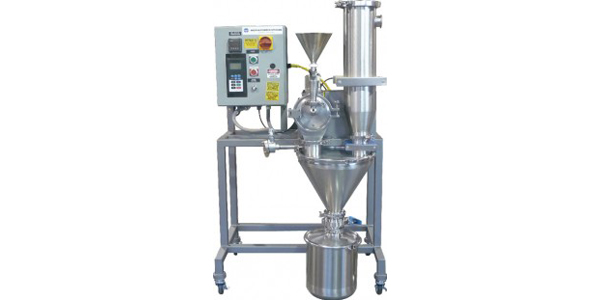 It is designed to suit the multiple application needs of the pharmaceutical and food industries.
It can meet the requirements for coarse granulation to ultra fine grinding with particle size distribution control as well.
Operators can quickly change grinding elements for different applications. Pins for ultra-fine grinding, Impact Hammers for fine grinding or Knife rotor for coarse grinding and granulation.
Materials that are difficult to grind at normal temperatures can be easily ground.
Can produce particles with high flowability and acute angle shapes.
Deterioration due to heat and oxidization, as well as flavor and aroma loss of foodstuff and spices are prevented.
Can prevent odor, dust explosion, combustion, and noise that are accompanied with grinding.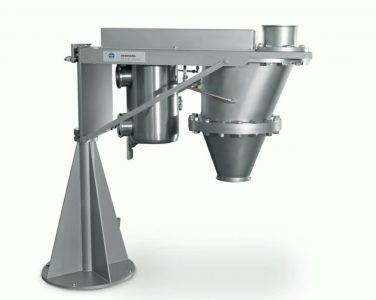 With the Bexmill soft to medium-hard substances are crushed gently. The Bexmill is also called basket type mill or conical mill.
The mill can be charged both continuously and discontinuously. From the feed unit the material to be crushed reaches the grinding area.
Due to its conical form the Bexmill can be operated in contrast to the classic Flake Crusher at higher revolutions. Through this larger throughputs and higher fineness can be achieved.
The product spectrum ranges from wet to dry feed material.