Various foods use a powder sugar which is ground granule sugar. The amount of coarse particle decides the grade of powder sugar. Generally speaking, 93.5% < 200Mesh (75 micron) are suitable size for confectionery usage. Sometime more fine powder called silk sugar is demanded. Both sugars can give a creamy frosting or icing on cakes or some pastries. But these fine powders cause problems in the manufacturing process and in use. Due to the high specific surface area, the fine powder tends to cake easily generates, absorbs moisture, and easily dust. To prevent these problems, a coarser powder sugar around 100-150 micron is still generally used. The powder sugar has following advantages.
– Good for large scale process automatic conveying
– Free-flowing
– Very fine but dust fre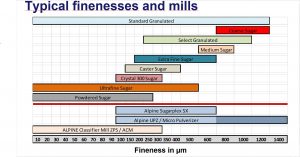 Hosokawa Micron Group propose mass production processes for manufacturing fine, coarse (general size), and ultra fine powder sugars, respectively. Our sugar grinding machines are installed not only in Europe but also in also in Asia, South America and many more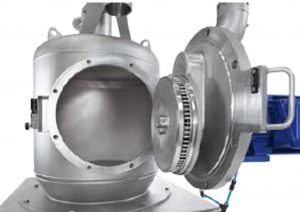 Advantages of Hosokawa Alpine Sugarplex;
Small space requirement
Low investment
Low energy consumption
Airless concept
No duct collecting filter necessary
No cooling necessary
ATEX compliant pressure-shock-proof to 10 bar
GMP-approved
Easy to clean
Optional additive dosing
Click here for Brochure Brochure_Sugarplex
 ZIRKOPLEX ZPS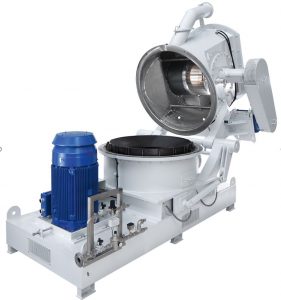 Icing sugar grinding with Zirkoplex ZPS.
Advantages of Hosokawa Alpine ZPS;
Grinding and classifying in one machine
Optimum accessibility
Finer than other classifier mills
Easy cleaning
Designed for processing adhesive products
High air flow rate = cool grinding
Excellent precision of cut, steep particle size distribution
 HOSOKAWA MIKRO PULVERIZER (TYPE AP)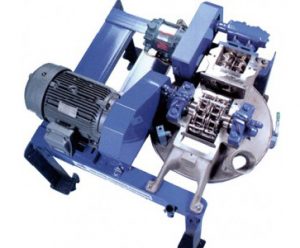 Advantages of Mikro Pulverizer;
Good cost performance
Robust
Stable operation
Easy to disassemble – assemble