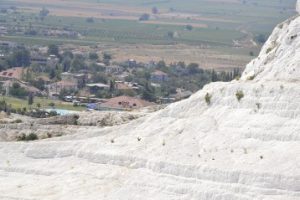 The fillers that were considered ultrafine just a few years ago are now standard products. The filler market may be large but is also fiercely competitive. The requirements are therefore either fine fillers with a sharp top cut at low costs or custom-made particle size distributions.
Contents
These specifications are not sufficient to enable selection of the optimum system, however – instead, it is necessary to consider the different products and their properties, e.g. the laminar structure of talc, the microcrystalline structure of chalk, etc. The maintenance costs, product change and space requirement, to name just a few aspects, must also be taken into consideration.
Fine fillers – high performance
Limestone (CaCO3) is one of the most important, versatile and – in terms of quantity – most frequently used minerals. It is common throughout the world and is used in the plastics, rubber, foodstuffs, chemical and pharmaceutical industries.
Our solution for this application is a large S.O.
300/600 ball mill in circuit with a Turboplex classifier 630/4 ATP, paired with an efficient control unit with in-line particle size analysis to control the fineness.
Although dolomite – similar to limestone and calcite – is also used for ultrafine fillers, the main customers are the glass, ceramics and steel industries, who demand medium-fine products or even steep particle size distributions.