Starch on the rise
Starch on the rise
Since decades, starch is extracted from potato, wheat or corn. Food manufactures use it as a natural ingredient in various applications because of its swelling and stabilizing properties. Today, native and modified starch are high-tech and versatile ingredients that find their application not only in food, but also in the pet and livestock feed industry.
The white powder is even in use against environment pollution when it is part of organically degradable plastic and glue.Reflected in market figures, the sector of starch derivates is one of the important  industries in the additives sector with a forecasted value of USD65.42 bilion in 2020. (www.marketsandmarkets.com/PressReleases/starch-derivatives.asp)
Food Industry recognizes future potential
Food manufacturers have already recognized the glorious predicted future of industrial starch. Investments in the market, such as the construction of a starch and pea protein production plant by French company Roquette in Canada that will process, combined with the new inaugurated plant in France, 250,000 tons p.a. by 2020. demonstrate the future importance. (www.roquette.com/media-center/press-center/20180516-roquette-inaugurates-a-new-pea-protein-production-unit-at-its-vic-sur-aisne-site/) The leading processor of starch is the baking industry, but also manufacturers that run with the trend of growing health awareness and non-dairy products increase their demand with a plus of 53% since 2013 for native and modified starch
Leading market categories for food & beverages launches tracked with starch (Global, 2017 vs 2015)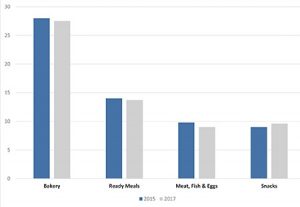 Ultra-fine grinding of native and modified starch at HOSOKAWA ALPINE
In the manufacturing process of industrial starch, the wet extracted particles are dried in a spray, belt or drum dryer for further processing. The resulting starch agglomerates must be ground in fine powders for a simple, various and uniform application. Alpine offers a long time of experience in the fine and ultra-fine grinding process of native and modified starch.
To know more of the topic… www.foodingredientsfirst.com/ingredient-focus/inside-starch-applications-enjoy-a-steady-rise.html