Grinding
HOSOKAWA MICRON ( MALAYSIA ) SDN BHD
Coarse grinding
Product size some dozens mm to some hundreds µm
Coarse Grinder for Rubber Bale
Rubber Chopper PB
– Generates a very large torque, with durable design.
– Low abrasion and noise level due to operation at low rotation speeds.
– Low required power level.
– The temperature increase of the product is low, with minimal effect to the product quality.
– Easy maintenance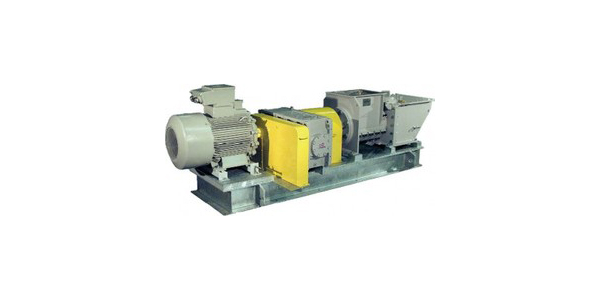 Low Speed Shearing Screen Type Grinder
Rotoplex Ro
– Durable casing structure made from cast iron
– Designed for easy cleaning and easy exchange of screens/cutters.
– Able to grind resin molded inferior goods of various shapes and sizes.
– Able to grind freshly molded high temperature scraps.
– Cooling air and water are not needed due to its unique structure that is compatible to the high speed rotor.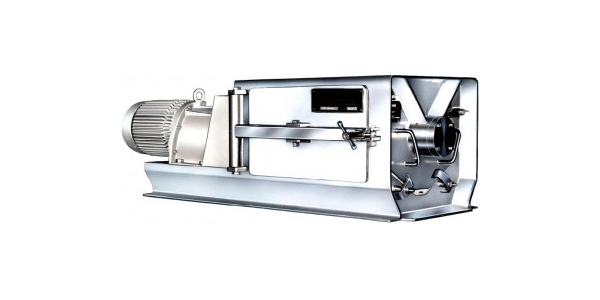 Low Speed Shearing Screen Type Shredder
Nibbler NBS
– The Raw Material can be easily fed into the
machine due to its wide inlet.
– The inlet and outlet are concentric on a plane, allowing for easy positioning.
– Product sizes can be easily adjusted by switching screens.
– Due to the unique design of the screen, the
residence time is short and generation of fines is minimized.
– Energy consumption is low and the noise generated during operation is relatively quiet.
Impact Type Screen Mill
Hammer Mill H, Hammer Breaker HB
– When used as a grinding machine to powderize small lumps of materials, the Hammer Mill has a high capacity and only needs minimal auxiliary facilities, making it a very efficient machine.
– Has a durable and simple structure.
– Parts where wearing could take place can be easily replaced and the running cost is low.
– Product sizes can be easily adjusted by exchanging the screens/grates through the side cover.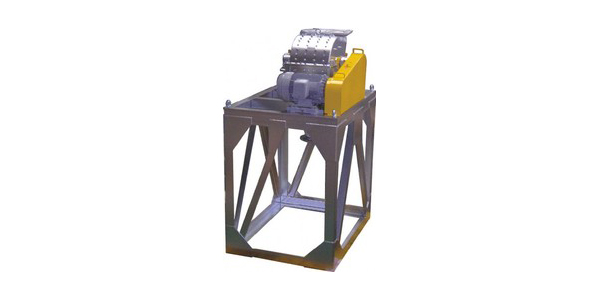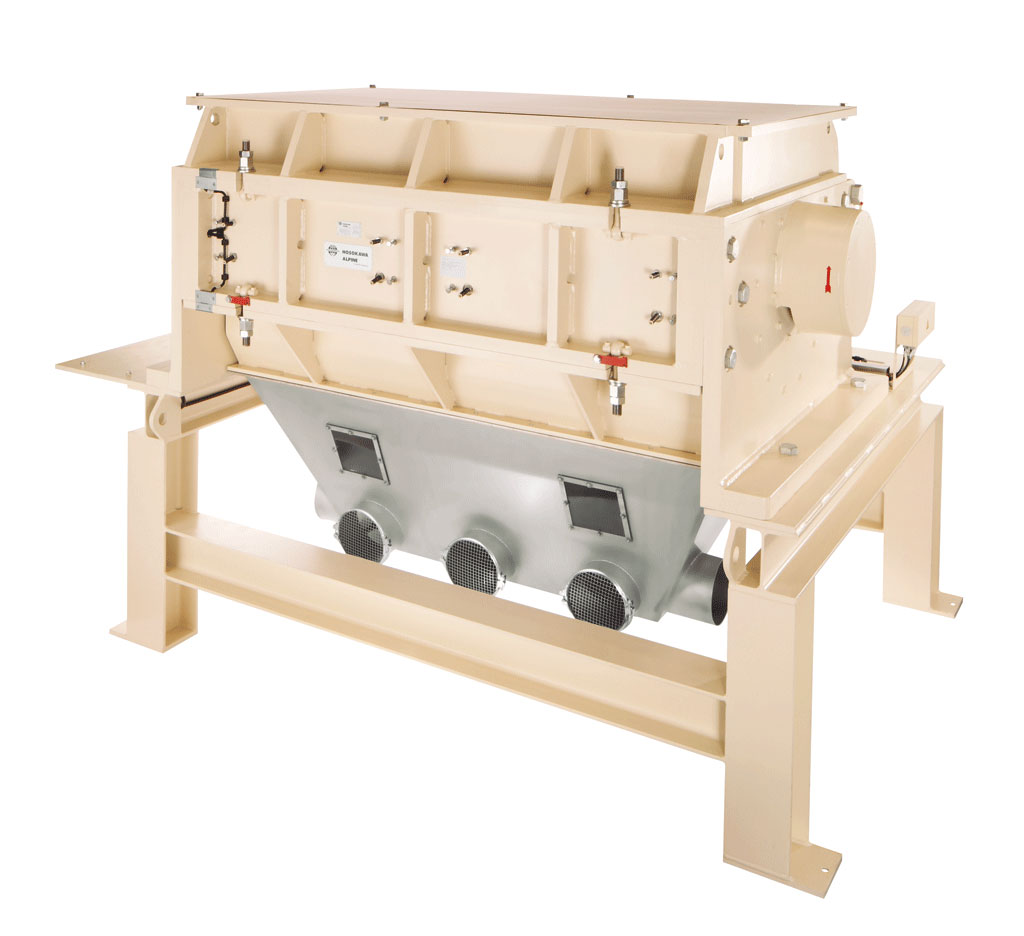 Low Speed Shearing Screen Type Grinder
Compact Line CL
– Rotors in patented Alpine cross-scissor-cut
technology.
– Robust framework construction in "triple frame" technology.
– Electro-hydraulic dual opening system for
mill top section and screen support for fast
and comfortable access to rotor and grinding chamber.
– Gap elimination/minimization for optimal cleaning.
– Machine sizes from 30 kW to 500 kW.
Disintegrator
Disintegrator RD, RH, RA/RP, RI
– Coarse grinding machine that can be widely applied to various industries such as the food industry for processing vegetables, fruits, fish meats, as well as chemicals, plastics (resins),
pharmaceuticals, etc.
– It can perform dry milling or wet milling depending on the application.
– The rotor is set onto a vertical, horizontal, or angled driving shaft.
– All models are structured in a manner for easy assembly, dis-assembly, and cleaning.
Fine grinding
Product size some hundreds µm to some dozen µm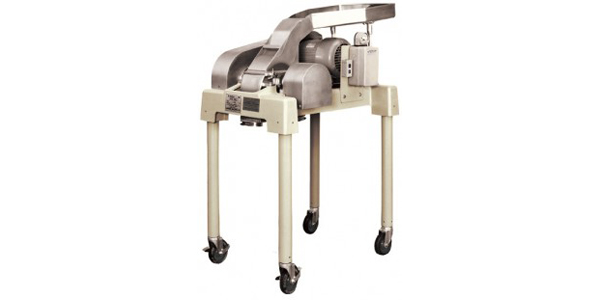 Screen Type Fine Impact Mill
Feather Mill FM, FM-P
– The particle size can be easily adjusted by
changing the hammer rotation speed as well
as the screen size.
– The Feather Mill is a suitable grinder for a wide variety of materials including heat sensitive ones.
– The pressure loss of the machine is very low, making it easy to incorporate the machine into any process line.
Impact Type Screen Model Fine Grinding Mill
Pulverizer AP
– Continuous operation allows for high capacity milling of a wide range of materials.
– Particle top size can be easily controlled by
changing the retainer screen.
– Designed for quick disassemble for cleaning and maintenance.
– Durable construction for long service life.
– AP-B, AP-1, and AP-2 models can be operated on its own by attaching air relief filters, allowing for easy operation.
– Different screen options can produce materials down to 45 microns.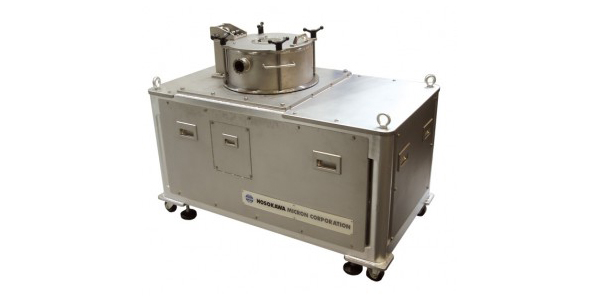 Impact Type Air Classifying Mill
ACM Pulverizer ACM, ACM-A, ACM-
2EC, ACM-H, ACM-HC
– By changing the air volume and classifying
rotor speed, the particle size can be easily
adjusted. This allows the operator to change
product sizes during operation as well.
– Effective impact grinding for heat sensitive materials possible.
– The ACM-A model can yield products with average particle sizes of 10-100μm, with the high speed (peripheral speed of 130m/s). The ACM-H model produces average product sizes of under 10 μm.
Impact Type Air Classifying Mill
ACM Pulverizer E-ACM
– Enhanced model from the ACM for the effective grit reduction in the carbon black.
– All raw material flows through the grinding
chamber without short pass.
– Recycle grinding of classified material.
– The grinding unit is normally incorporated into the carbon black process line as an in-line unit.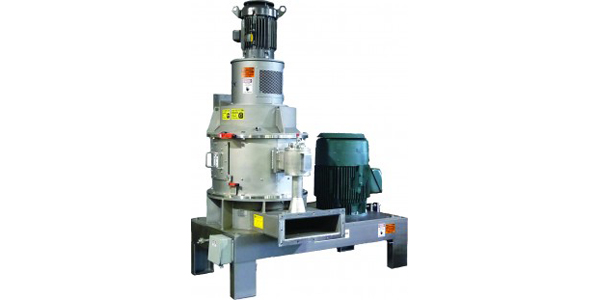 Impact Screen Type Fine Grinding Mill
Victory Mill VP
– Due to its short residence time, generations of fines are minimized leading to a sharp and uniform particle distribution.
– The area ratio of the liner and screen can be adjusted to best suit the material specifications.
– It has a simple structure making maintenance very easy.
– Ideal for grinding heat sensitive materials such as synthetic resin and foodstuffs
Impact Type Fine Grinding Mill with Pin Discs
Contraplex CW
– The wide grinding chamber structure allows generated heat to be discharged efficiently and prevents adhesion buildup.
– The high relative speeds generated by the two pin discs allow fine grinding.
– The strong impact generated by the pin discs allow an equally ground mixture made up by more than one substance.
– Ideal for raw materials with Mohs hardness 3 and lower.
Impact Type Fine Grinding Mill
Fine Impact Mill UPZ
– Wide range of flexible and interchangeable
size reduction media to fulfill a host of different requirements for medium fine end product sizes.
– Simple grinding structure for easy assembly and dis-assembly.
– CIP/SIP compliant model available.
– The 100UPZ-c, manufactured specifically for pharmaceutical applications, can be easily disassembled for cleaning and is GMP compliant.
Cryogenic Grinding Unit
– Materials that are difficult to grind at normal temperatures can be easily ground.
– Can produce particles with high flowability and acute angle shapes.
– Deterioration due to heat and oxidization, as well as flavor and aroma loss of foodstuff and spices are prevented.
– Can prevent odor, dust explosion, combustion, and noise that are accompanied with grinding.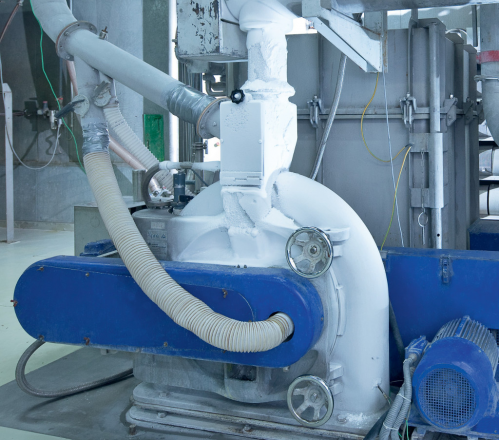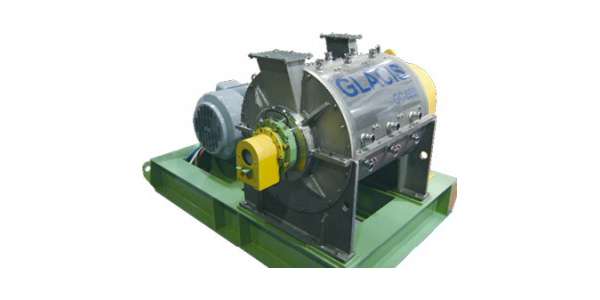 High Performance Cooling Type Mechanical Mill
Glacis GC
– Ultra-fine grinding of heat-sensitive materials
– Suitable for grinding heat-sensitive resins due to its high cooling efficiency. When grinding toner, the Glacis can produce products with the same average particle size (approximately 5μm) as products produced by jet mills.
– Energy-saving.
– Superior cooling efficiency.
– Compact design of the unit and system.
– Production scale test units.
Three-in-one Mill
UMP Universal Milling System
– It is designed to suit the multiple application needs of the pharmaceutical and food industries.
– It can meet the requirements for coarse granulation to ultra fine grinding with particle size distribution control as well.
– Operators can quickly change grinding elements for different applications.
Pins for ultra-fine grinding, Impact Hammers for fine grinding or Knife rotor for coarse grinding and granulation.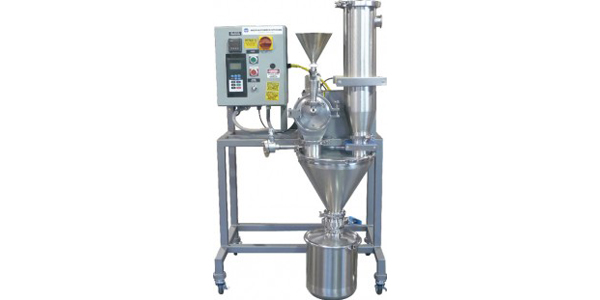 Ultra-fine grinding
Product size some µm to some hundreds nm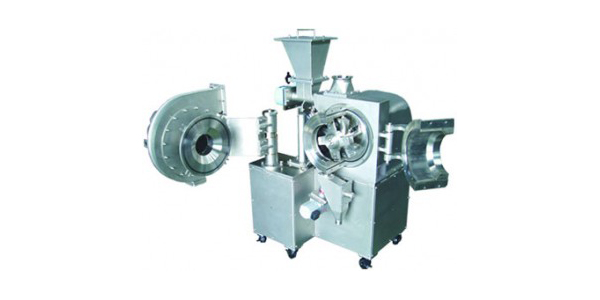 Attrition Type Ultra Fine Mill
Super Micron Mill MEC,M
– Grinding mechanism that utilizes the 3 largest grinding principles. (Impact, Shearing, Attrition)
– Space saving: 65% more compact compared to past models. (Compared as a whole system)
– Low Noise level : under 85dB.
– Equipped with contaminant separation mechanism.
– The Super Micron Mill M model uses the same attrition grinding mechanism as the renewed MEC model.
Impact Type Ultra Fine Grinding Mill
Innomizer INM
– High grinding capabilities.
For example, in the case of grinding toner, 30-50% cost reduction (comparing energy consumption ratio) can be expected relative to conventional jet mills.
– For high grade, high added value of products.
– Easy particle size control.
– Easy Maintenance and Inspection.
– Wide variety of designs.
Jet Mill
Fluidized Bed Opposed Jet Mills AFG, AFG-R,AFG-CR
– Low energy consumption.
– Sharp classifying performance.
– For materials of any hardness.
– Low product contamination.
– Simple construction.
– Low noise emission.
– Almost 1,000 references for an enormous variety of application.
Jet Mill
Fluidized Bed Opposed Jet Mills AFG-CR
– CR ultra fine classifier is integrated in AFG for milling down below one micron.
– The classifying wheel is designed on basis of the forced and the semi-free vortex theory, resulting in sub-micron classification.
– Combining with opposed jet mill technology,
– Ceramics classifying wheel for metal free product is available.
– Scale-up with multi-wheel classifier.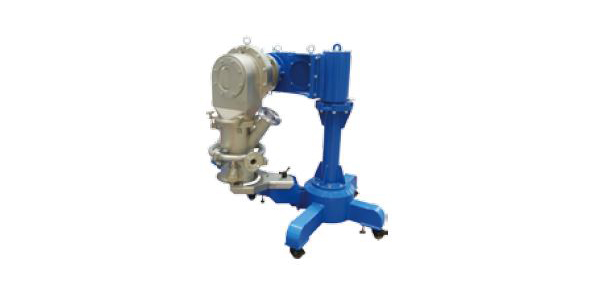 Jet Mill
Fluidized Bed Opposed Jet Mills TFG
– High precision of cut.
– Suitable for toner grinding.
– Good accessibility for cleaning to minimize the downtime during a color change.
* A hydraulic mechanism permits the classifier head to be raised and then swung off to the side through 180°.
Jet Mill
Fluidized Bed Opposed Jet Mills TTG
– TTG jet mill is equipped with a TurboTwin classifier head that substantially reduces the pressure drop of the classification.
– Produce sub-micron particles at high capacity.
– Application areas:
Mineral powders, Graphite, Mineral fillers. Talc, Barium sulphate, etc.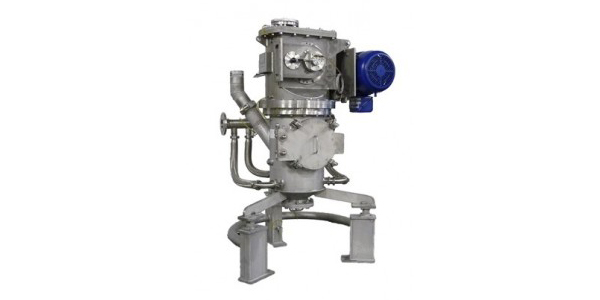 Jet Mill
Spiral Jet Mill AS
– Simple structure without rotating parts.
– Unique grinding mechanism, which prevents coarse materials from entering the product.
– Ability to grind low-melting point materials to a few μm.
– Corresponds to GMP standards for easy disassembly and CIP/SIP.
Jet Mill
Micron Jet-T MJT
– Target(impact) type jet mill.
– High grinding efficiency.
– Easy adjustment of product size.
– Highly precise classification possible as
ground particles enter the classifying zone in highly dispersed conditions.
– Easy Cleaning.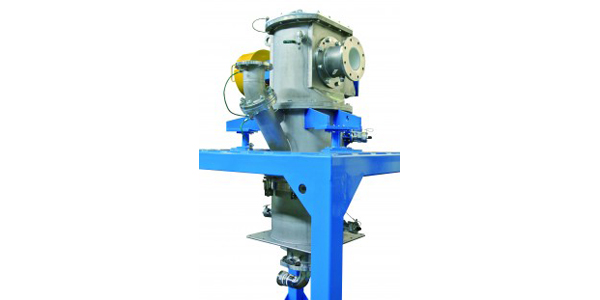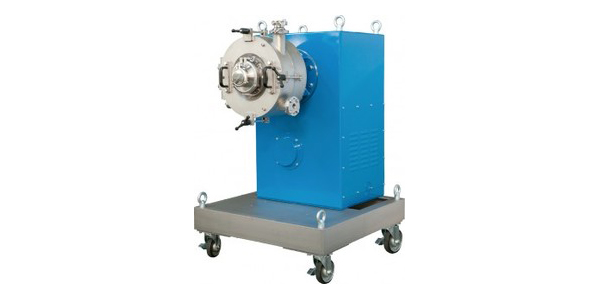 Jet Mill
Micron Jet-Q MJQ
– Target(impact) type jet mill.
– High energy efficiency.
– Low residue in the mill.
– Very-easy-to-clean construction.
– Easy size control.
– Designed for handling sticky materials.
– All-ceramics construction is possible.
– Applicable for neodymium iron boron for magnet.
Agitating Media Mill with an Integrated Classifier
Pulvis PV
– Energy efficient compared to jet mill.
– Possible to grind down to ultra fine particles (sub-micron).
– Easy particle size adjustment.
– Ceramics construction possible for powder
contact part.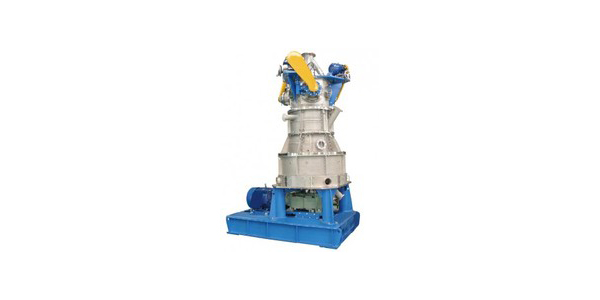 Agitating Media Mill
Super Orion Ball Mill S.O.
– Cast side plates bolted to a welded grinding drum.
– Integrated manhole.
– Drive via ring and pinion gear with automatically controlled tooth lubrication, back gearing with couplings and high-performance gear unit.
– Product discharge via adjustable slots located around the periphery of the drum. Two part discharge housing with top venting connection and inspection cover.
– Bearing unit: grease-lubricated anti-friction bearings, central lubrication system. Friction bearings also possible if required with permanent oil-re-circulation lubrication and temperature control.
Wet Process Agitated Ball Mill
Hydro-Mill AHM
– Easy Dis-assembly and Cleaning.
The mill is equipped with either a stationary or mobile support unit that guarantees a simple disassemble procedure for cleaning and maintenance.
– Wear protection.
For the application which require special c are for metal contamination, the agitator disc and liner pipe can be coated with either high-grade ceramics or tungsten carbide. A mono-block ceramics structure is possible as well.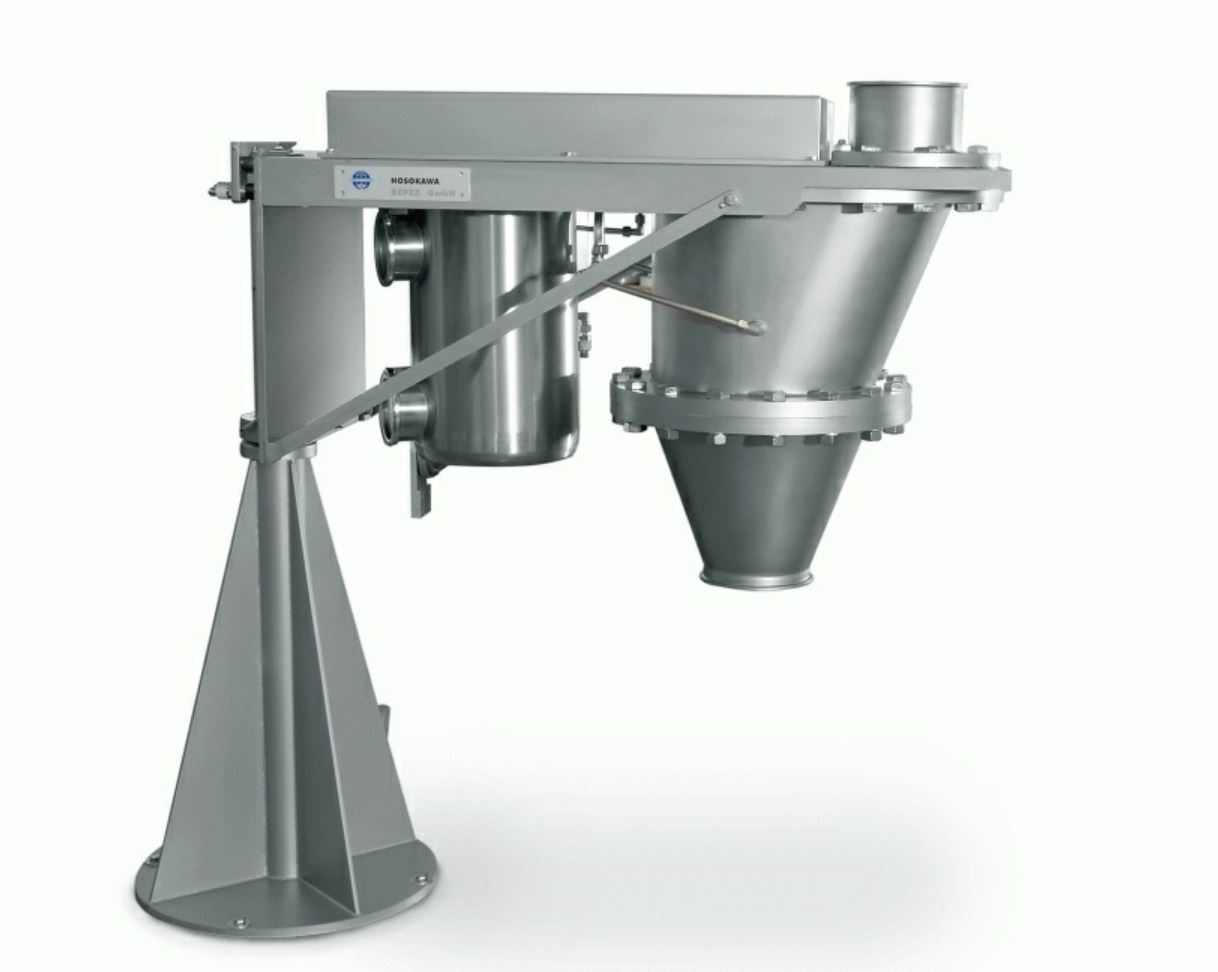 Conical Mill
Bexmill ABM
With the Bexmill soft to medium-hard substances are crushed gently. The Bexmill is also called basket type mill or conical mill.

The mill can be charged both continuously and discontinuously. From the feed unit the material to be crushed reaches the grinding area.

Due to its conical form the Bexmill can be operated in contrast to the classic Flake Crusher at higher revolutions. Through this larger throughputs and higher fineness can be achieved.

The product spectrum ranges from wet to dry feed material